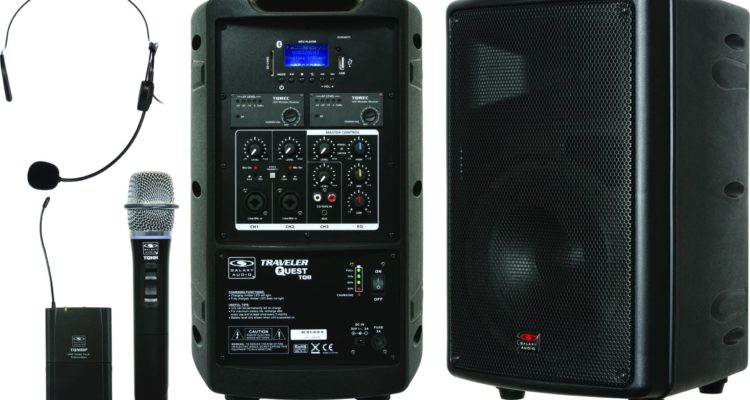 Galaxy's TQ8 – Affordable, Portable All-In-One PA
Galaxy's new TQ8 packs 150-watts of high-performance audio into a light-weight, portable package with versatile mixing, wireless options and extended battery life – all at an unmatched price.
With a powerful 8-inch woofer and a wide-dispersion HF horn with 1-inch compression driver, the TQ8 offers professional-level audio performance with plenty of level and clarity for a wide variety of uses. Two wired mic/line inputs complement a highly versatile music system with an SD card slot, USB connector, left/right audio connections and Bluetooth compatibility for use with a phone or iPod source. One or two optional wireless mic receiver's work with Galaxy's hand-held or body-pack wireless microphones and expand the TQ8's applications while eliminating mic cable issues.
The TQ8's simple operation makes it easy to mix and control all of these sources with individual and master volume and 3-band equalization to optimize sound quality and voice clarity. A useful voice priority feature (with on/off switch) automatically ducks the music source when someone speaks into any microphone. This mix of great performance, versatile features and portability makes the TQ8 an ideal choice for applications like these:
Schools – classrooms, cafeteria, sports training and other outdoor events
Corporate – meetings, training, off-site and outdoor events
House-of-Worship – overflow, youth events, outdoor weddings, memorial services
Personal – back-yard parties, picnics, tailgating
Other – auctioneers, aerobics, street theater, AV rentals
The TQ8 is light weight and highly portable with a convenient carrying handle and may be AC powered or operated from its internal battery for up to 24 hours of continuous use. A standard pole socket allows stand mounting for larger groups.
Premium performance, an unmatched feature set and trouble-free operation at a highly affordable price make the TQ8 the ideal "all in one PA". As it celebrates 40 years of great audio products, Galaxy Audio invites you to see and try the TQ8 and other great Galaxy products at a Galaxy dealer near you. 
TQ8 MAP $249.99 to $349.99