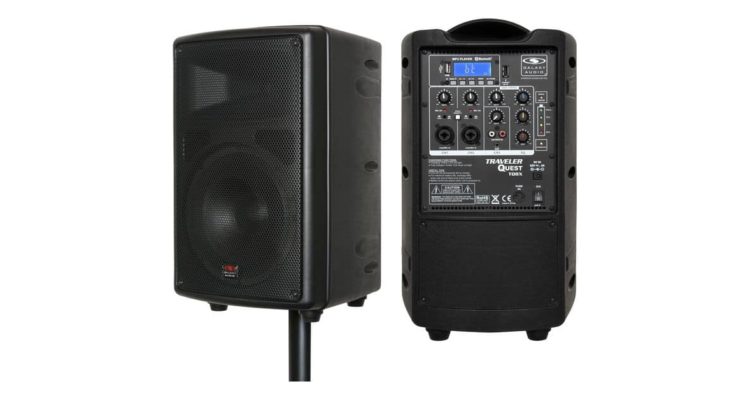 New Galaxy Audio TQ8X Portable Rechargeable PA Speaker System Delivers Affordable, Professional Sound.
Galaxy Audio expands its line of portable speaker PA systems with the new Traveler TQ8X. Premium performance, an unmatched feature set and trouble-free operation at a highly affordable price make it the ideal portable PA speaker system.
Versatility and Portability at an Unmatched Price
Battery-powered operation gives the TQ8X versatility and remote portability perfect for a variety of applications. It boasts 150 watts of high-performance audio packaged in a sturdy yet lightweight design. Features include onboard mixing, 3 band EQ, Bluetooth media player, extended battery life, and new 16 channel selectable UHF wireless mic options—all at an unmatched price.
A convenient carrying handle makes the TQ8X easy to "grab and go." The TQ8X may be AC powered or operated from its internal battery for up to 24 hours of continuous use. A standard pole socket allows stand mounting for larger groups.
Professional-Grade Audio Performance
Featuring a powerful 8-inch woofer and a wide-dispersion HF horn with 1-inch compression driver, the TQ8X offers professional-grade audio performance. Two wired mic/line inputs complement a versatile music system including a USB connector for thumb drive stored MP3 files, a separate USB power output, left/right audio connections, and Bluetooth compatibility for use with a phone or smart device source.
The TQ8X's integrated mixer makes it easy to control all audio sources with individual and master volume controls, complemented with 3-band equalization to optimize sound quality and voice clarity. A useful voice priority feature (with on/off switch) automatically reduces the music source when the presenter speaks into any connected microphone.
Wireless Dual Mic Options
The TQ8X can be configured with compatible Galaxy Trek GTU mic options including handheld, lavalier and/or headset with body pack. The dual channel receiver accepts up to two wireless transmitters simultaneously, making it ideal for home or professional use. The receiver is USB powered/rechargeable through an onboard TQ8X USB power port or most USB charging ports and adaptors.
Ideal for Many Applications
A blend of great performance, versatile features and portability makes the TQ8X an ideal choice for applications including:
• Schools – classrooms, cafeteria, sports training and other outdoor events
• Corporate – meetings, training, offsite and outdoor events
• House-of-Worship – overflow, youth events, outdoor weddings, memorial services
• Personal – backyard parties, picnics, tailgating, karaoke
• Other – auctioneers, aerobics, street theater, AV rentals
STREET PRICE – $349.99