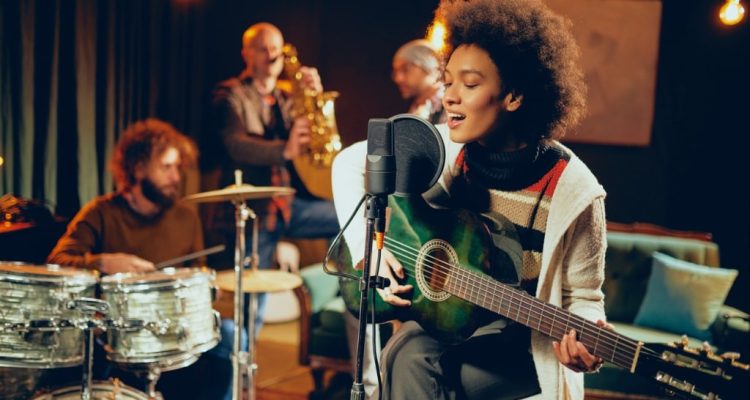 8 Tips for Planning and Booking Your First Tour!
Making a name for yourself and nailing gigs in your local scene can be satisfying and exciting for any band or musician. However, if you really want to be taken seriously by fans, labels, and the press, you'll eventually need to step outside that comfort zone and play gigs in other areas. 
For many people, the idea of making a living traveling as a full-time musician might sound like a dream, but plenty of artists are able to do this and count live performances as their favorite part of the job. 
The benefits of taking your show on the road are immeasurable. Playing live is an excellent way to grow as a musician, and you'll likely meet many other artists and influential people on your journey. However, going on tour isn't something that just happens. A lot of time and effort is required. Here are some tips for planning and booking your first tour to make the most successful experience possible. 
1. Create a Plan
You won't have a successful tour without a plan. You'll want to sit down at least four to six months in advance, map out where you'd like to go, research venues in those locations, and put together the logistics for a tour. 
2. Understand the Process
When you are looking to book shows for your tour, this usually involves a three-step process known as Hold, Challenge, and Confirm. You should start this about six months in advance. Here's what each step involves.
Hold —

Venue promoters offer "holds" on a first-come-first-serve basis, which are verbal confirmations that a musician wants to perform on a certain date. A booking agent might have first, second, and third holds for a particular date, and bands might have several holds for multiple dates at a venue or at different venues in an area. 

Challenge —

A "challenge" is the process of forcing people with holds on a date to commit or back out within 24 to 48 hours. If you have a 2nd or 3rd hold on a date, you can issue a challenge and end up getting the commitment if the ones in front of you don't confirm. 

Confirm —

A "confirm" is the verbal agreement you have with the venue that you intend to sign a contract and commit to performing on a specified date.  
3. Create a Contract
Touring contracts don't need to be complicated, but you do need to understand your rights, responsibilities, and how you're going to be paid. There are different types of financial arrangements with venues, including the following.
Guarantee —

You get a flat fee guaranteed, regardless of ticket sales or expenses. 

Door Deal —

You get paid a percentage of ticket sales (such as 80%). 

Versus Deal —

You get whichever is higher, a Guarantee or Door Deal. 

Split Point Deal —

You get a guaranteed fee plus a percentage of the ticket sales after venue expenses. 
4. Learn to Pitch
If you want to book a successful and full tour, you need to learn to craft interesting and persuasive pitches that will capture the attention of booking agents. The person you are contacting needs to be able to determine who you are, what you sound like, and whether your style fits with their venue. Put together a promo pack with the band's Bio, including pictures, history, and samples of your music.
Start sending out emails to promoters as early as six months in advance. These people are super busy, so keep your message as brief and to the point as possible. Provide the dates you're looking to "hold" and include a link to your website or social media profiles so they can learn more about you. As the dates get closer, don't be afraid to follow up. 
5. Have a Tour Budget
Before you go on tour, make sure you can afford it. The idea is to make some money, but there will also be some expenses that can affect your cash flow. For example, your van might unexpectedly need repairs; someone may require medical attention, or you might need to replace or repair a piece of equipment. 
You can save money touring by shopping at grocery stores instead of eating out for every meal. Use apps to find the best deals on gas, food, and groceries and seek out local contacts for shelter instead of paying for hotels. 
6. Prepare Itineraries and Inventory Lists
If you are expecting to stay organized on the fly, something is probably going to get overlooked, lost, or even stolen during your journey. Instead, sit down and prepare a detailed tour itinerary that includes travel schedules and a Day of Show itinerary that lists the address of your venue and times for set-up, soundchecks, and shows. 
Also, create an inventory list so you don't forget something valuable at a venue. This is particularly helpful if you play events like music festivals where stagehands will be moving your gear around during quick changeovers. Have a current stage plot and input list to send to venues in advance so they can be prepared. If you make a change, be sure and update and send the revised version. 
7. Promote Your Shows
This might seem like a no-brainer, but too many performers expect a venue to do all their promotion and are disappointed when they end up performing to small or nonexistent audiences.
You need to put some serious work into promoting your own tour if you want people to turn out to your shows. Make sure you are posting on your social media pages, as well as the venue's pages. You can also find local press contacts and create posts on social media pages for the area you plan to visit to generate some pre-show hype. 
A great way to promote your band is merch. Merchandise you sell at your shows, T-Shirts, posters, stickers, CDs etc. Just be certain to keep a good inventory, and have someone you trust selling the merch at your shows. Sticking around to sign autographs and talk to your fans, will get them talking about you to their friends.
8. Invest in High-Quality Sound Equipment from Galaxy Audio
Unless you want your first tour to also be your last, it's important you present yourself as a professional musician with superior sound equipment. Galaxy Audio can help. Since 1977, our products have flanked the stages of some of the biggest artists in the industry, like Janis Joplin, Aretha Franklin, James Brown, Jack Johnson, Alice Cooper, and more. 
We offer a wide range of microphones, speakers, monitors, PA sound systems, and much more. Contact us to learn more about how our audio products can help elevate your band and the audience experience.