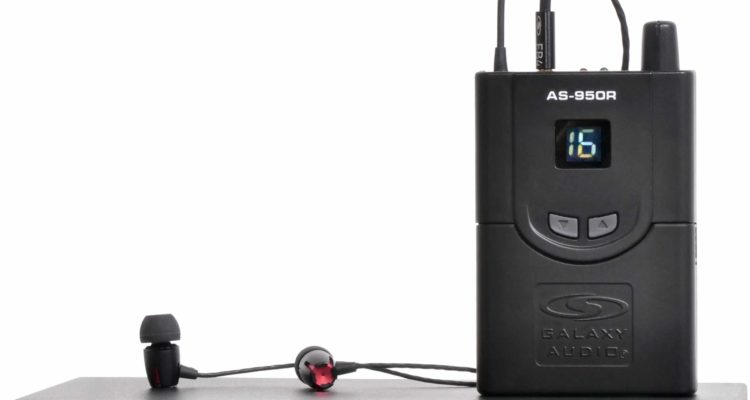 The AS-950 Wireless Personal Monitor Is a Frequency-Agile Performer
The Galaxy Audio AS-950 In-Ear Monitor system is perfect as an affordable in-ear monitor solution for the entry level user while providing a high quality sound for an economical price. With its 16 selectable UHF frequencies, 50mW of audio power and included EB4 ear buds, Galaxy Audio's AS-950 offers high-quality stereo monitoring even in a crowded RF environment.
Use a single transmitter and receiver system to give each person their own monitor mix at a live event, in a recording studio or a classroom. Or choose the optional AS-950-4 Band Pack system with four receivers and one transmitter to allow four persons to share a monitor mix.
The AS-950T transmitter includes a L/R level display, channel up/down select with LCD display, stereo XLR/1/4″ inputs, and headphone output with volume control. The AS-950R receiver offers a 50mW stereo output with RF and stereo indicators. The EB4 ear buds feature titanium drivers, extended bass response and aluminum alloy construction. A Single/Dual Rack mount kit is included.
The Twin Pack and Band Pack Systems makes it easy for any duo or band to Get Personal. The Twin Pack system includes two receivers and one transmitter. The Band Pack system includes four receivers and one transmitter. They are designed to get the duo or whole band wireless in one package. The AS-950-2 and AS-950-4 will allow a duo or band to send one stereo mix to 2 or 4 individuals. Additional transmitters may be purchased at a later date to add mixes.
Check out Adam and the Flood's unboxing of the system below:
With its high-quality, frequency-agile performance and highly affordable price, the AS-950 brings personal monitoring to professional musicians, live theaters, houses of worship and schools. Audition the AS-950 at a Galaxy dealer near you.