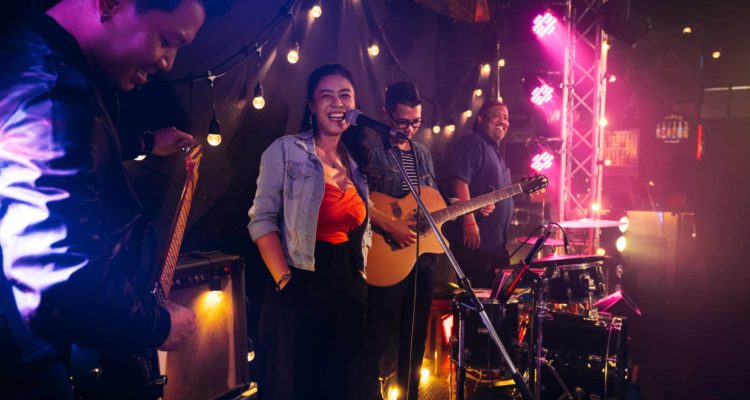 How to Get Your First Gig! Tips for Bands and Musicians
The dream of almost any artist or musician is to play in front of a live audience. If you've had your first live audience before, then maybe your goal is to grow your fan base. If you've never had a live audience, getting your first gig is an incredibly rewarding, unforgettable experience to work toward.
So, how can you get your first gig as a band or solo artist? Don't give up. Here are some tips to help you land a spot on that stage you've been dreaming about and get some money in your pocket for your efforts. 
1. Make Sure You're Ready
When you're looking to perform a live show, it's important to make sure you feel prepared and confident to showcase your talent. Like any craft, practice makes perfect. When you're leading up to your first live gig, run through your music a few times more than normal. 
Another great way to prepare for your first live gig is to test your equipment, familiarize yourself with any issues you might encounter, and learn how to troubleshoot for these issues. Having trustworthy equipment can help build your confidence in the quality of your sound.
2. Make a "Demo"
Once you feel ready to start taking on some gigs, put together a demo. Most promoters and venues will want to hear what you sound like before they agree to sign you up for a show. Demos might sound costly, but there are plenty of ways to get this done on a budget.
A great way to record a demo could simply be on your phone. However, if you are really aiming to enhance the quality of your demo, you could find yourself a budget-friendly, quality microphone.
Promoters are busy people, and might only have a few minutes to sample some of your music. Don't feel pressured to show off a complete demo. A sample that is shorter will be perfectly fine, so long as they can hear a good portion of your voice or instrument.
Your best approach is to get a digital recording of your music uploaded to a service (i.e., Soundcloud), where you can share the link. And, if someone does take the time to listen, thank them and graciously accept any constructive feedback. 
3. Build Some Buzz
This is actually easier than it was years ago, thanks to the internet. In the past, some musicians found themselves printing hundreds of posters and stapling them to every light pole on the block. Today, you can quickly generate buzz about your band online through various social media channels like Twitter, Instagram, and Facebook. 
Make sure your band has profiles on all of these channels, and you stay active on them. When people comment on your posts, engage with them. Nothing gets potential fan bases more excited than personally connecting with the musicians they see perform. 
4. Do Some Research
While it might be tempting to apply to play at every venue in town, this isn't always the best idea. Some promoters and venues specialize in certain types of music, which may not fit with what you do. If you sing country music, you probably won't fit in at the local jazz club. 
When you visit some of these spots, you'll get a good idea if your music is a fit. You can also do some online research to bring up relevant results. 
5. Tap into Your Network
One of the keys to staying booked as a musician is to have a healthy network that you continue to nurture. This takes some work, but the results will be fruitful if you can deliver once on stage. 
The truth is that bars, restaurants, and events always need bands and musicians to fill their schedules. Networking is the best way to get on these venues' radar and stay there. Go to different gigs and talk to bartenders and venue owners. Ask for their advice and let them know you are available. 
6. Make Yourself Memorable
Venues and promoters receive a ton of contacts from musicians wanting bookings. You'll want to find some way to stand out from the crowd – in a good way. Having an interesting band name is a good place to start. 
You can also include some photos of your band performing so that the decision-maker can put faces to the band name. If you have a video of a recent performance, even better. Send this over in an email or social media link. 
7. Be Realistic
It's important to recognize that there is no such thing as too small of a gig. Every live show you perform is one step closer to your big break, so if in the beginning, you are only booking at small venues, recognize that it is still an incredibly rewarding opportunity to have an audience of people listen to your music. Bigger venues and audiences are only so many small performances away. 
Ask yourself: what local establishments tend to give new bands a shot? Are there places you've gone to in the past that had performers you've never heard of? Those are probably your best spots to target. The music industry can be tough to gain traction in, but not impossible. It's important to keep trying to book a live gig, as this can help you build your name and fan base.
8. Ask for Support Gigs
Another great way to gain traction is by offering support gigs.. A great way to start getting gigs is to ask for support slots. You can ask the venues directly or message some local bands to see if they need opening acts or a backup if their opener falls through. 
9. Make Yourself Reachable
One of the best ways to set yourself up for success when booking your first gig is to make yourself easy to reach. This a critical component of this process because in order to get booked, people need to know how to get in touch with you. 
To do this, create an email that you check often. While you can use an address you already have, it wouldn't hurt to create a new email that you use specifically for music purposes. Of course, make the email address relevant to who you are as an artist; a great address might be as simple as your stage name.
Another way to ensure you are easy to reach is by creating and maintaining a media account that not only displays your information but also showcases your work. Record yourself singing or playing, so people can instantly hear your talent when they visit your profile. Even after you book your first gig, keep updating your profile and let it serve as a portfolio of your work.
10. Invest in the Right Sound Equipment
If you want venues to take you seriously, it's important to present yourself as professionals with superior sound equipment. Galaxy Audio can help. Since 1977, our products have flanked the stages of some of the industry's biggest names, like James Brown, Aretha Franklin, Janis Joplin, Alice Cooper, Jack Johnson, and more. 
We offer a wide range of speakers, microphones, headsets, portable PAs, wireless personal monitors, and much more. Contact us to learn more about how our products can help elevate your band and its fan's experience.