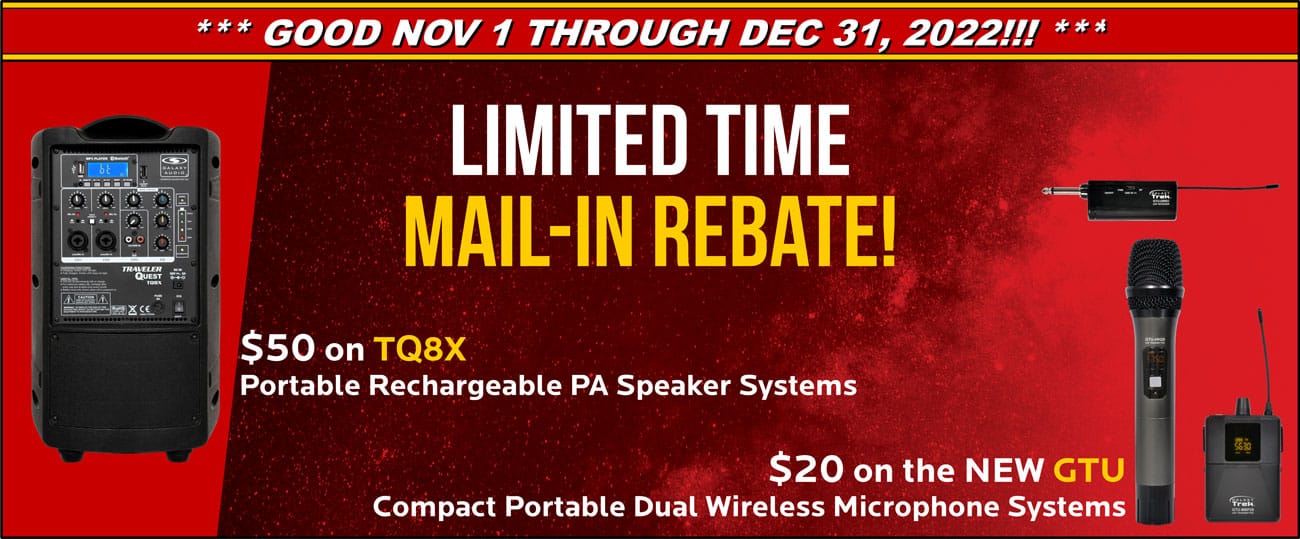 LIMITED TIME MAIL-IN REBATE on TQ8X Portable Rechargeable PA systems & GTU Dual Wireless Microphone Systems
Effective November 1st 2022 – December 31st 2022, Galaxy Audio customers will be eligible for a Mail-In Rebate program for the following TQ8X Portable Rechargeable PA systems and GTU Galaxy Trek Compact Portable Dual Wireless Microphone Systems. Requests must be postmarked on or before January 31st, 2023.
TQ8X the easy grab-and-go portable rechargeable PA speaker system that boasts 150 watts of high-performance audio, packaged in a sturdy, lightweight, design.
150 Watt Amplifier
Rechargeable
Built-in MP3/Media Player
Built-in Bluetooth®
5-volt USB charger port
Built-in Handle & Speaker pole mount
Voice priority button (Automatically reduces music volume when speaking through a wireless or wired mic).
With the GTU you can turn most any powered speaker into a Wireless PA System
Ultra-compact UHF wireless microphone system with two independent receivers in a single unit. This allows two microphones to be used simultaneously. Choose 1 or 2 mics of your choice between handheld, Headset, or lavalier microphones. The pocket-sized receiver can be plugged into powered speakers, mixers, and existing sound systems and has a 160-foot operating range.
Easy Set-Up
Compact Light-Weight Design
160 ft Operating Range
Dual Microphone Wireless Receiver (Works with 2 Wireless Transmitters Simultaneously)
Rechargeable Receiver
UHF Wireless Transmission
Full Range Microphone
Volume Control On Transmitters
60 Selectable Channels 30 per transmitter
6 Hours Battery Life