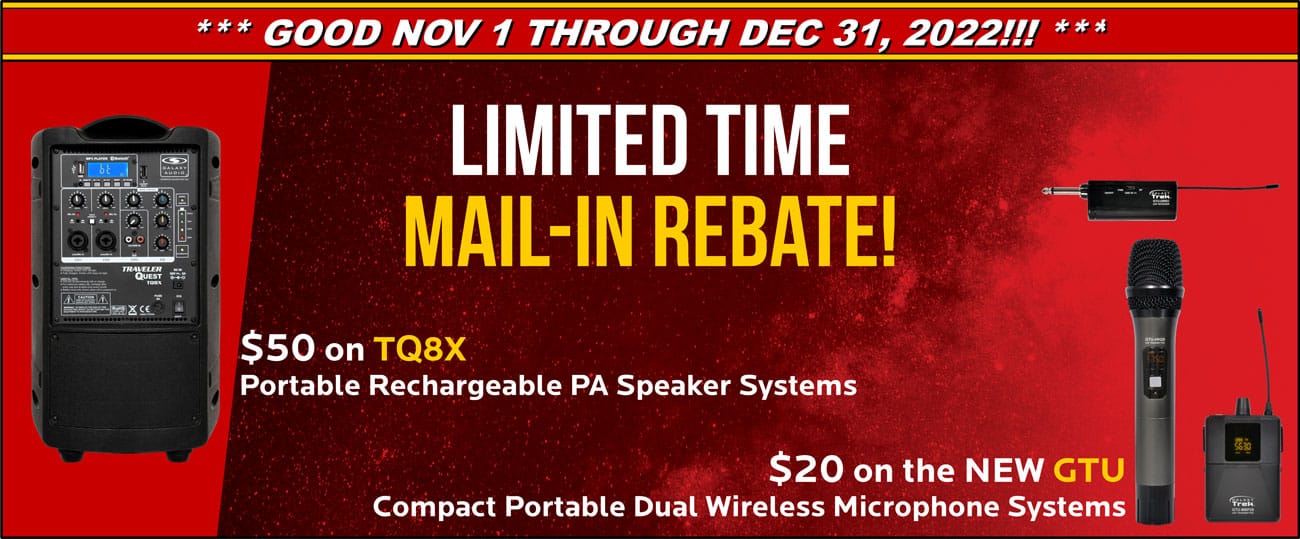 LIMITED TIME MAIL-IN REBATE on TQ8X Portable Rechargeable PA systems & GTU Dual Wireless Microphone Systems
TQ8X the easy grab-and-go portable rechargeable PA speaker system that boasts 150 watts of high-performance audio, packaged in a sturdy, lightweight, design.
150 Watt Amplifier
Rechargeable
Built-in MP3/Media Player
Built-in Bluetooth®
5-volt USB charger port
Built-in Handle & Speaker pole mount
Voice priority button (Automatically reduces music volume when speaking through a wireless or wired mic).
With the GTU you can turn most any powered speaker into a Wireless PA System
Ultra-compact UHF wireless microphone system with two independent receivers in a single unit. This allows two microphones to be used simultaneously. Choose 1 or 2 mics of your choice between handheld, Headset, or lavalier microphones. The pocket-sized receiver can be plugged into powered speakers, mixers, and existing sound systems and has a 160-foot operating range.
Easy Set-Up
Compact Light-Weight Design
160 ft Operating Range
Dual Microphone Wireless Receiver (Works with 2 Wireless Transmitters Simultaneously)
Rechargeable Receiver
UHF Wireless Transmission
Full Range Microphone
Volume Control On Transmitters
60 Selectable Channels 30 per transmitter
6 Hours Battery Life