Broadcast Supply Worldwide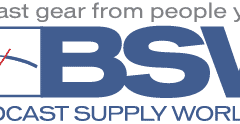 We believe everyone deserves to be heard
We provide the tools for the Broadcasters, Podcasters, Voice-Over Artists, Recording Studios, Live Sound, Musicians, basically anyone wanting to capture, broadcast and playback audio to record and broadcast.
From the microphone to the transmitter, from the cable to the PA cabinet and everything in between, BSW is the only connection you need for all your audio gear.
Knowledgeable and Friendly Staff
We have broadcast, studio engineering, and live sound experience to offer guidance with your equipment purchase. If we can't answer your questions we know where to find the solution.
Tuesday
6:00 am - 5:00 pm
Wednesday
6:00 am - 5:00 pm
Thursday
6:00 am - 5:00 pm