Nano Spot PA NSPA
The Powered Nano Spot is a member of the Hot Spot family. Featuring a 3" driver, it has three inputs on the rear panel: XLR, 1/4", and 1/8" stereo...
Buy Now
The Powered Nano Spot is a member of the Hot Spot family. Featuring a 3" driver, it has three inputs on the rear panel: XLR, 1/4", and 1/8" stereo summing. With 24V Phantom power, a 20dB pad, and built in compressor, you can go directly into the Nano Spot from your source or microphone. The NSPA can be used in call centers, computer monitoring, on the bar or patio* in a restaurant, and many other applications.
25 Watts
3" Ceramic Driver
Freq. Reponse 150 Hz - 17 kHz
Sensitivity: 85 dB, 1 W @ 1 m
Input Connections: One XLR Balanced, One 1/4" Unbalanced, One 1/8" Stero Summing
20dB Pad
Two Band EQ With Center-Detent Controls
Built-in Compressor
24Vdc Phantom Power
18Vdc Power Supply
Stand/Wall Mount Included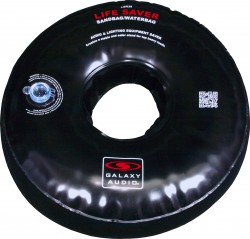 The Galaxy Audio Life Saver is a unique equipment stand stabilizer that may be used in a variety of ways in Audio, Video, Lighting, and Theatre applications. Any mic or speaker stand may become unstable because of a top-heavy center of gravity, a boom extended laterally, or simply because the stand is set on an uneven surface. When filled with Sand or Water the Life Saver provides enough weight at the bottom to stabilize most mic and speaker stand applications. The doughnut shape of the LSR38 ensures that the Life Saver will stay on the base of the stand, even if the stand is pushed or bumped. The LSR38 weighs 38lbs. when filled with sand, and 22lbs. when filled with water. The durable reinforced vinyl material and easy-fill water tight design allow the user to transport the Life Saver empty, and fill with water on location. The LSR38 dimensions are: 16" O.D. x 6" I.D. x 3" Thick. The Life Saver will pay for itself the first time it prevents your expensive mics or speakers from hitting the floor. (Sand/water not included)
May be filled with sand or water
Protects mics and speakers from damage
Helps keep microphone, speaker and lighting stands upright
Sand/Water not included
Unique doughnut shape keeps bag on the stand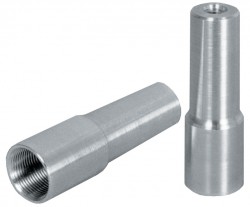 Spun aluminum stand adapter
Will mount a unit to any microphone stand. Works with all HOT SPOT MONITORS.
Nano Spot PA NSPA Specifications
| | |
| --- | --- |
| Frequency Response | 150Hz–17kHz |
| Output/Peak | 25 watts @ 4 ohms |
| Sensitivity | 87.5dB, 1 watt @ 1 meter |
| Maximum SPL | 101.5dB |
| Speaker Compliment | 3" Driver, 4 Ohms |
| Nominal Impedance | 4 ohms |
| Equalization | Two Band Center Detent: Lo: ± 12 dB @ 200 Hz, Hi: ± 12 dB @ 10 kHz |
| Input Connections | XLR Input: 4.4 k Differential Balanced w/ 24 VDC Phantom, 1/4" 10 k Balanced/Unbalanced , 1/8" 22 k Balanced (11 k Unbalanced) |
| Controls | Input Level, High Frequency, Low Frequency, 20 dB Pad |
| Indicators | Power LED, Signal LED & Compressor LED |
| Power Requirements | Internal Power Supply, Input 100-240 VAC, Output 18 VDC, 1.75 A |
| Enclosure Materials | High Impact ABS Plastic |
| Mounting/Rigging | Built-in yoke bracket points |
| Color | Black |
| Dimensions | 5" x 4.25" x 4.5" (127mm x 108mm x 114mm) |
| Weight | 1.75 lbs. (0.793kg) |
This product has not been rated yet.
Reviews
This item has not been rated yet.